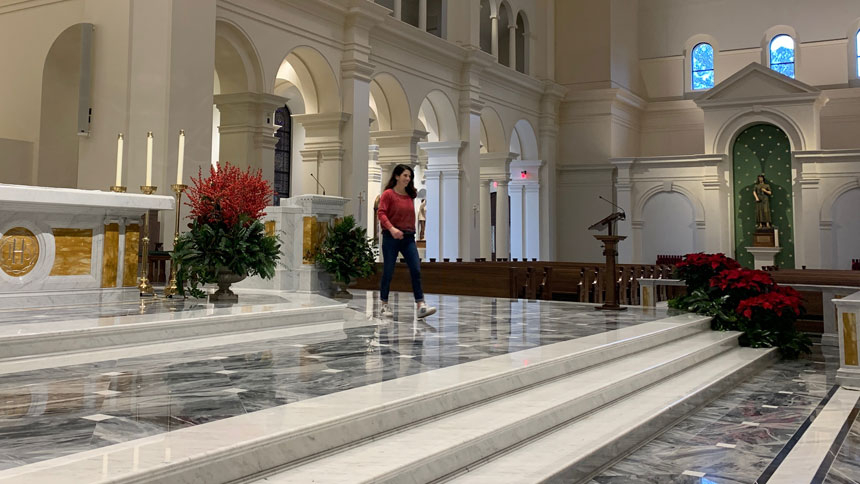 Above: Kate Kelley
---
It's 4 p.m. and Kate Kelley's tracker knows she's already put in six miles. Indoors. On Christmas eve eve.
Kelley, chairwoman of her parish's altar guild, seems to lavish in the eight-hour decorating marathon. She consults charts, sweeps up tree needles and polishes the altar. She knows much of the routine by heart after 13 years of volunteering.
Her work changed three years ago when Holy Name of Jesus Cathedral opened, but the group carried many of the traditions from Sacred Heart [then] Cathedral to the new mother church.
This year's job is focused on 15 large trees, hundreds of yards of fresh garland, 22 thirty-inch candles, 48 red poinsettias, wreaths dressed in ribbon, more than 20,000 tiny sparkling lights and a creche, or nativity, fit for a king.
It's a task carried out by many people, including at least 15 volunteers, ten workers from a tree farm and two professional florists.
The trees, which sit on a sunken plywood floor behind the tabernacle, range from six feet tall to 14 feet tall. The trees grew at Smokey Holler farm in Laurel Springs, a North Carolina mountain town between Jefferson and Sparta. According to owner Earl Deal, the tallest tree is about 20 years old.
Deal traveled to Raleigh with his wife Betsy to be present for the Dec. 23 placement of the trees, which was arranged by partner Cranberry Tree Farm. 
"It's great to see the trees being used in celebration of Christ's birth and our salvation," Deal said as he watched the tree branches fall into place. "They're Fraser fir, that's the best tree in the world as far as holding their needles."
For Kelley, seeing it all come together is part of the magic of Christmas.
"I love it because I feel like I am behind the scenes and just doing the little detail work … to make sure that the linens are done, that the vessels are cleaned properly and those kinds of things. And that we have paid attention to all the small pieces that make up the Mass," she said.
Attention is paid to the outside of the cathedral, too, where garland and red ribbon await parishioners and visitors alike.
"When you walk into the narthex, what you'll see is that the arms that are above holding the lights will have fresh natural greenery that, to me, looks more like a forest," she said.
According to Kelley, this year's trees were sponsored by people in memory of or in honor of loved ones and friends. 
"[Seeing] the plan come together and … be born into life was the most fun part. And to be able to successfully deliver and feel proud of being able to take the bishop's request and put it into life," Kelley said. "He said I want trees, I want big trees, and so we got big trees. And it was really neat to see the pictures of him before midnight Mass last year, standing right here looking back behind the tabernacle just absorbing the whole atmosphere and taking it all in."
Videos
Photos