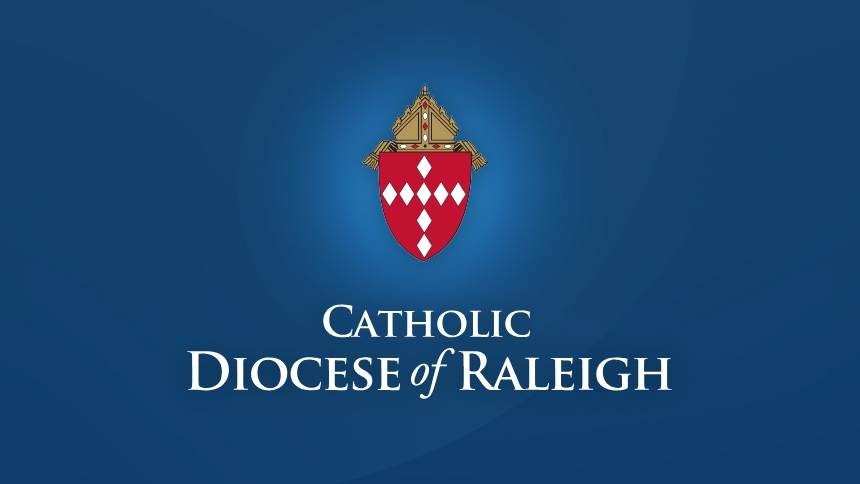 The Diocese of Raleigh began the day with the smallest Catholic cathedral in the continental United States. But when the dedication of a new cathedral concluded, the diocese was home to one of the largest in the country.
Bishop Michael F. Burbidge said of Holy Name of Jesus Cathedral, "[People] are going to walk into this cathedral to gather around this altar … from which they will receive the bread of life and the cup of Salvation. This is our home. This is our mother church … that will allow us to gather in great numbers."
Located near downtown Raleigh, Holy Name of Jesus Cathedral measures 44,000 square feet and has a seating capacity of 2,000. The cathedral was built to accommodate the life of a diocese with nearly 500,000 Catholics, a number that's projected to double within 20 years.  
Bishop Burbidge, bishop of the Diocese of Arlington, Virginia, served as Raleigh's bishop during most of the cathedral project and was principal celebrant at the dedication Mass.
Concelebrants seated at the altar included Cardinal Roger Mahony, retired archbishop of Los Angeles; Cardinal Justin Rigali, retired archbishop of Philadelphia; Archbishop Wilton Gregory of the Archdiocese of Atlanta; Archbishop Christophe Pierre, apostolic nuncio to the United States; Bishop Luis Zarama, who will be installed as Raleigh's sixth bishop Aug. 29; and Monsignor Michael Shugrue, diocesan administrator. 
More than 130 priests, 45 deacons, 23 seminarians, 20 bishops, and 12 women religious attended the Mass. It began with the entrance hymn I Will Praise Your Name Forever, an original, 10-verse piece composed by Michael Accurso, director of liturgical music for the diocese. Based on Psalm 145, the hymn was sung in English, French, Spanish, Vietnamese, Igbo, Korean, Tagalog, Latin and Swahili.
More than 20 musicians and 70 choristers were responsible for the harmonious sounds that emanated from the choir loft. The procession included an honor guard, composed of a Knight of Peter Claver and more than 30 Knights of Columbus from throughout the diocese.
The Mass included a ceremonial passing of a key to the cathedral. Representatives involved in the building of the cathedral presented a key to Bishop Burbidge who, in turn, passed it to his successor, Bishop Zarama.
Archbishop Pierre, who is the pope's representative in the United States, read an official letter from the Vatican designating Holy Name of Jesus Cathedral as the mother church for the diocese. Dedicated in 1924, Sacred Heart, a 300-seat church in downtown Raleigh, previously served in that role.
"May your lives each day reveal the handiwork of God's grace," Archbishop Pierre said to the faithful.  
As part of the dedication Mass, Bishop Burbidge blessed water, which he later used to sprinkle the faithful and purify both the walls and altar of the new cathedral.
"Bless this water; sanctify it," he prayed. "As it is sprinkled upon us and throughout this church, make it a sign of the saving waters of baptism … May all here today, and all those in days to come, who will celebrate your mysteries in this church, be united at last in the holy city of your peace."
Reader Tricia Moylan, psalmist Pierre La Pierre and seminarian Noé Ramirez present the new lectionary, or book of Scripture, for Holy Name of Jesus Cathedral.
Two readers—parishioner Tricia Moylan and seminarian Noe Ramirez—presented the new lectionary, or book of Scripture, to Bishop Burbidge who showed it to the congregants.
In English, Ms. Moylan read from the Book of Nehemiah; Mr. Ramirez read in Spanish from the Book of Ephesians.
In his homily, Bishop Burbidge spoke about the name of the new cathedral, noting that the property it sits on was once home to a Catholic orphanage. Opened by North Carolina's first native-born priest, Father Thomas F. Price, that orphanage had a chapel named Holy Name of Jesus.
"We knew that had to be the name," Bishop Burbidge said.  
He spoke about God's holy name, urging the people of the diocese to always hold it in reverence. "I firmly believe that reverence for God's holy name—never to be taken in vain—is a witness we all need to offer society now more than ever," he said. "Dear Diocese of Raleigh, please renew that commitment today."
Bishop Burbidge shared an experience he had Dec. 9, 2015, when he represented the diocese and presented the cathedral's cornerstone to Pope Francis for a blessing.
In a lighthearted moment, he shared a challenge from that day. "The hardest part was trying to explain to the Swiss guard what I had in my hands," he laughed, as the faithful joined in laughter.
"That cornerstone, now situated in our building, is a reminder of the truth we heard today [in Scripture]" he continued. "Our faith is built on a foundation … with Jesus Christ as the capstone."
Bishop Burbidge also spoke about the future of the diocese and Bishop Zarama, who will serve as its next bishop. "In God's divine plan, he has been entrusted with the pastoral care of this diocese," Bishop Burbidge said.        
The rite of dedication began with the Litany of the Saints, a traditional chant which asks the saints to support the faithful's prayers to God.
Following the litany, relics were brought to the altar by former cathedral rectors Monsignor Shugrue, Monsignor Gerald Lewis, Monsignor Jerry Sherba and Father Daniel Oschwald, and current rector Father Justin Kerber, C.P.
Bishop Burbidge enclosed the relics into the main altar, while Bishop Bernard "Ned" Shlesinger, III, newly-ordained auxiliary bishop of Atlanta and former Raleigh priest, did the same in the cathedral's chapel. In all, 21 relics were deposited.  
The Prayer of Dedication was offered, and those in attendance gave a resounding "Amen" to the bishop's words.
Clad in a gremial, or liturgical apron, over his alb, Bishop Burbidge rolled up his sleeves and anointed the main altar and church building with sacred chrism; Bishop Shlesinger anointed the chapel altar.
Bishop Burbidge and priest assistants Father Kerber, C.P., and Monsignor David Brockman anointed the walls in the form of a cross at twelve points throughout the cathedral. Incensation and lighting of the altar and the church followed.
About a dozen members of the parish and Catholic Center staff dressed the altar with linens and the sanctuary with floral arrangements that included greenery and white hydrangea. Five gift bearers, including a man who once lived at the orphanage that was formerly on the property, presented the gifts.   
Many of the faithful gathered were moved to tears at moments, especially as a single beam of sunlight shined exclusively on the crucifix during Communion.
One attendee, Ginger Ward-Presson, a parishioner at Our Lady of Lourdes, said the Mass was the most beautiful she had ever attended.
"This was unbelievable … magnificent. In fact, it brings tears to your eyes. There were many moments, especially with the orchestra … I just think no words can describe it," she said. "I think the liturgy was beautiful, touching, reflective. Just to be able experience this kind of liturgy, it's momentous and also elegant and gracious. I think the cathedral is everything the bishop talked about and beyond."
People respond to the new cathedral and dedication
Left to right: Sisters Angie Sanchez, Martha Alvarado and Angelica Arce, all H.S.M.G, react to an Our Lady of Guadalupe painting inside Holy Name of Jesus Cathedral just before the dedication Mass.
For religious Sisters Angie Sanchez, Martha Alvarado and Angelica Arce, the cathedral held a heartwarming surprise.
"It's a big day. We are excited to be here," Sister Angie Sanchez, H.S.M.G., said of the cathedral as she walked in the main doors.
But what the Mexico-born sister saw around the corner and to her left took her breath away. "Our Lady of Guadalupe … is here?" she smiled as she looked at a painting of Mary.
For the sisters, it was an instant identification with the familiar. And it was an experience many of the faithful shared as they looked at statues of their favorite saints or windows that held special meaning.
"I felt overjoyed. I couldn't wait to get here today," Jim McNally, a Knight of Columbus serving in the honor guard, said before Mass.
A member of St. Bernadette Parish and Apex Assembly #2446, Mr. McNally served in the honor guard for Bishop Burbidge's installation Mass 11 years ago.
By his calculation, he served in hundreds of honor guard processions. His fellow Knight Joe McCarthy has, too. But this time, they agreed, was different. 
Joe McCarthy (left) and Jim McNally wait to line up for the procession at the dedication Mass. Both men are members of the Knights of Columbus, which organized an honor guard of more than 30 Knights from throughout the diocese.
"It's a once-in-a-lifetime opportunity," Mr. McCarthy, a parishioner at St. Francis of Assisi, said. "I did a dedication of a church back in Massachusetts, but never anything like this."
Jane Embler, of St. Ann Parish in Clayton, said the event seemed like something out of her imagination. She attended the Mass with her husband Paul, who noted that their oldest child was baptized at Sacred Heart Cathedral four decades earlier.
"I never thought we'd have a cathedral like this in North Carolina. To have this … and to see so many people coming together. It's just a beautiful day," she said.
For Sister Renee Murphy, I.H.M., that beauty and mystery was waiting at the end of the main aisle in the sanctuary. A gift bearer, Sister Renee presented the bread before Communion.
"I focused my attention on the open door of the tabernacle," she said. "I realized that Jesus is just waiting for us to bring the gifts forward and these gifts would be changed. And probably many of us, after this experience, will be changed in some way."
Lauren Weathers, who watched the dedication online via livestream, called the Mass beautiful and moving. "The [livestream] commentary was so very informative … Thank you [to commentator] Monsignor Michael Clay," she posted on the diocesan Facebook page. "My family is looking forward to attending Sunday Mass very soon."