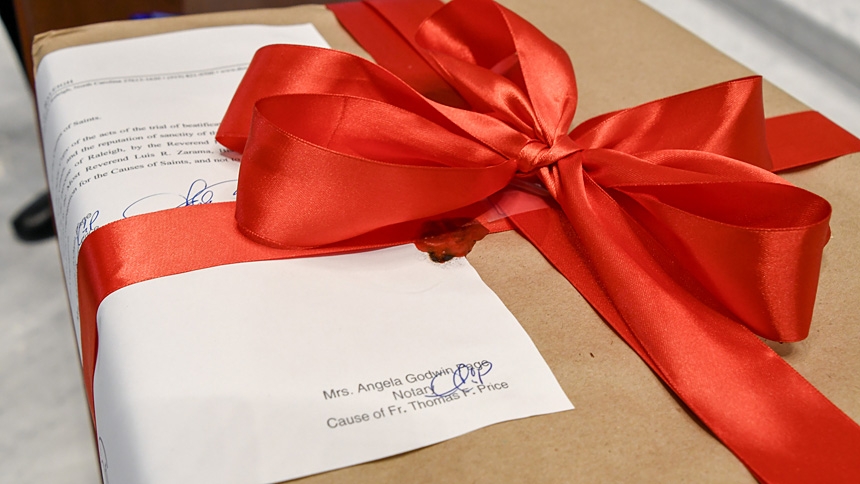 Tar Heel. There are competing legends on where the nickname for North Carolinians originated. But one thing is clear: a Tar Heel stands strong with loyalty to a mission. Like a tree held in place by roots, a Tar Heel will not forsake his ground when the road gets tough.
Maybe that helps us understand a certain nickname – the Tar Heel Apostle. It was given to Father Thomas Frederick Price. Sure, it was about his North Carolina roots. But that was only part of it.
In 1886, Father Price, then 25, became the first native-born North Carolinian to be ordained a priest. By many accounts, he was the type of priest who wanted to convert everyone to Christ and, when possible, to Catholicism. He traveled the state by horseback, buggy and on foot. He famously climbed to the peak of Mt. Mitchell and celebrated Mass overlooking the beauty of Carolina.  
Over the course of two decades in his home state, he served as a pastor, founded several Catholic publications and facilitated numerous parish building projects. He bought hundreds of acres of land, which he called Nazareth, to house an orphanage and a home mission center in Raleigh.
That property, which he bought more than 100 years ago, is now the home of Holy Name of Jesus Cathedral, the mother church for the diocese. History and future are, seemingly, there together every day.
And – on July 11 of this year – were combined tangibly when the faithful gathered to celebrate solemn vespers, and witness the first ever closing of a Cause for Beatification and Sainthood in North Carolina.  
Three boxes – wrapped in brown paper and tied with red ribbon – sat on sanctuary. They represented six years of investigative work into the life of Father Price and included more than 1,100 pages of testimony, history and writings, which were individually inspected verified and notarized.
Bishop Luis Rafael Zarama, standing alongside Father James Garneau and Angela Page, blessed, approved and sealed the boxes. (Father Garneau served as episcopal delegate for the cause, and Page worked as the notary.)
"I feel a great sense of relief," Page said on the day of the closing. "We've been going through this process for over six years … and my hope is that we will see his cause advance."
Page's connection to Father Price and cause runs deeper than a stamp and a signature, though. For starters, her aunt – a religious sister – was a teacher at the Nazareth orphanage in the 1950s and '60s.  And she's a member of Our Lady of Guadalupe Parish in Newton Grove, where Father Price was a visiting priest early in his ministry. Page credits Father Price for the strong Catholic foundation in Newton Grove.
Page isn't alone in her admiration. Father Philip Johnson, of St. Ann Parish in Newton Grove, also has an affinity for Father Price.
"He ministered to my great-great grandmother. He cared for her soul and, because of that, there have been generations of Catholics that came from that conversion and from his ministry," he said.
Father Johnson added that one of the most inspiring truths of Father Price's work is that he experienced much failure and despair, yet he didn't waver in his faith.
"He knew God had a plan … he didn't see the fruits of his work during his life, so I try to remember that. It takes years to understand things sometimes. We're not going to understand why things happened in the moment, it takes years to be revealed and sometimes it's never revealed in this life," he said.
Father Johnson's personal testimony is included as part of the positio, or collection of documents related to the investigation for the cause for sainthood.
The fate of that positio now lies overseas, specifically at the Vatican where it will be reviewed.   
The sealed boxes were sent via diplomatic pouch (so no government may inspect or look at the documents) to the Congregation for the Cause of Saints in Rome, which is a delegation of papal advisers. That group, guided by the appointed postulator for the cause in Rome, will examine the materials to determine whether Father Price lived a life of "heroic virtue." If so, they will recommend that Father Price be deemed venerable.
For his part, Father Garneau, who was the episcopal delegate for six years, is now vice-postulator, or spokesperson for the cause of canonization for Father Price.
The shifting role is a definite change for a man who was called to spend six years as an unbiased gatherer of facts.
Today, however, Father Garneau reflects on how the journey has affected him personally.
"[The testimonies] stopped me … and made me think, what does it mean to be a holy priest? And … what are the things that make an impact for the sake of the Gospel?" he said. "It was an examination of conscience for me as I look and compare and listen to the stories."
Timeline of Father Price's life, cause for canonization
Aug. 19, 1860
Thomas Frederick Price is the 8th child born in Wilmington to Clarissa Bond and Alfred Lanier Price. At the time of his birth there are about 350 Catholics in seven parishes in the entire state.    
1876
16-year-old Freddie Price departs for St. Charles Seminary in Maryland. He travels on the ill-fated Rebecca Clyde, a boat destroyed by a severe storm during his trip. He's one of a few survivors.
June 20, 1886
Thomas Price is ordained a priest by Bishop Henry Northrop. For the next 20 years, Price traveled the state to make "every Tar Heel a Catholic."
1896
Father Price purchases hundreds of acres of land in Raleigh to establish an orphanage. He calls the property Nazareth. Since its purchase, part of that original site has been home to Cardinal Gibbons High School, diocesan offices and, most recently, Holy Name of Jesus Cathedral.
1910
After corresponding about their shared interest in missionary work, Father Price meets Father James Anthony Walsh at the Montreal Eucharistic Congress, where they plan a foreign mission seminary, which later becomes Maryknoll.
June 1911
Fathers Price and Walsh travel to Rome and receive approval for the seminary.
Sept. 7, 1918
Father Price is among the first American Catholic missionaries from Maryknoll to reach China. He doesn't speak the language there, but he's embraced by the people of the Yeungkong mission.
Sept. 12, 1919
Father Price dies of a burst appendix on the Feast of the Holy Name of Mary in Hong Kong. He's buried in China.  
1936
Father Price's body is exhumed and transferred to Maryknoll Cemetery in Ossining, NY.
1955
His body is moved to rest alongside Bishop Walsh's within a crypt below Maryknoll Seminary Chapel.
March 9, 2012
Bishop Michael Burbidge, 5th bishop of Raleigh, opens the diocesan phase for the Cause for Beatification and Canonization. Father Price is named a Servant of God.
Steps to Sainthood
Servant of God: Upon the death of someone who shows great faith, a community may petition the Vatican to open a cause for sainthood. If the Vatican can find no reason to block that petition, they issue a 'nihil obstat,' which means they see no reason to prevent the investigation. The deceased becomes known as a Servant of God and a Cause for Beatification and Canonization is opened. (This is the phase just completed for Father Thomas Price.) 
Venerable: Once the local cause has been closed, all items from the investigation are sent to the Congregation of the Causes of the Saints in Rome. (This happened July 11 for Father Price.) If the investigation concludes that the person was a person of "heroic virtue," he or she may be deemed venerable.
Blessed: People are encouraged to report any miracles or favors granted. If instructed, an investigation into those reported miracles will open. Once one miracle is investigated, confirmed and approved, the pope may choose to grant beatification. Beatification changes the status of that person to Blessed.  
Saint: When a second miracle is investigated and confirmed, the pope may choose to canonize a person and recognize him or her as a saint.