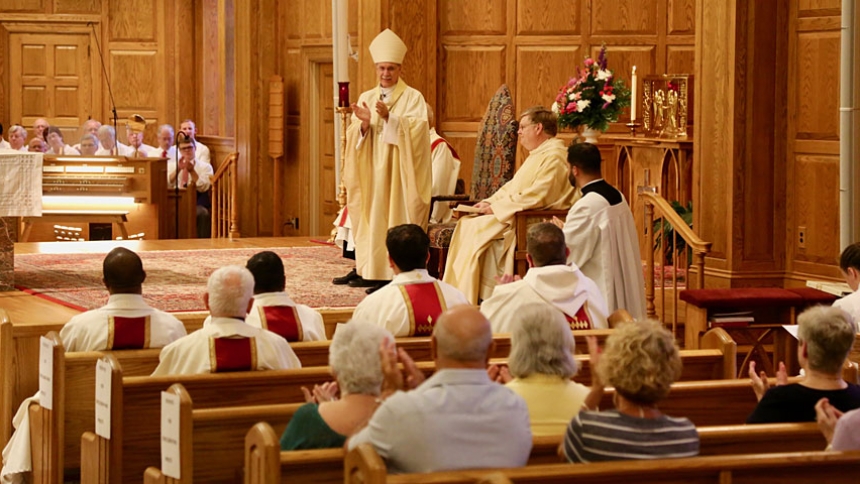 Above: Father John Forbes is installed at Sacred Heart in Pinehurst June 28.
---
On August 4, Bishop Luis Rafael Zarama presided over the installation of pastor Father Patrick Keane at Our Lady of Lourdes in Raleigh.
After the Gospel reading, Father Keane renewed his priestly vows and promised to be a faithful and steadfast leader for the Lourdes community.
Similar installations are happening throughout the diocese. In Southport, Father Thahn Nguyen was installed at Sacred Heart Church July 28. Father Greg Spencer was installed the same day at St. Mark in Wilmington. And later this month Father Ryan Elder will be installed pastor at Holy Family in Hillsborough.    
As priests move into new homes and new roles, it's a perfect time to explore some of the best ways to welcome them.
Check out these five suggestions and email nc.catholics@raldioc.org if your parish has wonderful welcoming traditions of its own.
It may seem obvious but say hello and introduce yourself! Some priests may be blessed with an innate ability to remember faces and names after just one meeting, but most would appreciate if you say your name the first several times you meet them. Just remember, you are only meeting one new pastor, he is meeting hundreds of new parishioners.
Food is always a wonderful and traditional way to welcome but consider asking about preferences before you cook, bake or buy. Priests have allergies and aversions just like the rest of us, so ask about any dietary restrictions before dropping off goodies. Also, instead of a casserole that may only keep for a short while, consider giving your priest a gift card to your favorite nearby restaurant. If he is new to town, he will appreciate the recommendation. (Also consider recommendations for local bookstores, walking trails and the best place to get a cup of coffee.)
As for wine … A nice bottle is a hospitality gift that stands the test of time. If this is your go-to "welcome to the neighborhood" gift, just remember two things. First, (and again) it never hurts to ask if there is a preference. Second, part of the reason these are great gifts is that they are re-giftable. If you give a priest a bottle of wine, your gift may be that he doesn't have to stop at the store before a dinner party of his own. That, in itself, is a great gift too!
Be patient and try to trust. There are countless items competing as top priorities when a pastor walks into the parish office. Imagine moving and getting a new job in the same week. Now, also imagine a young couple anxiously waiting on you to approve a wedding date, a family who has just lost a loved one waiting on you to confirm a funeral time and another family who just called from the hospital and needs you right now. This is all not counting day-to-day operations that are involved. Trust that he's been given the information he needs and be patient as he navigates his way.
Most importantly: Pray for your pastor. Ask God to give your pastor strength and guidance. Your prayer can be anything from devoting a rosary for him to adding him and other parish leaders to your prayer intentions.
It is easy to forget, as we see our pastors each week at Mass, just how much they do behind the scenes. They need your support. Whether your parish priest is newly installed or has been around for years, make sure that hospitality is part of your parish profile.
"Welcome one another, then, as Christ welcomed you, for the glory of God." Romans 15:7