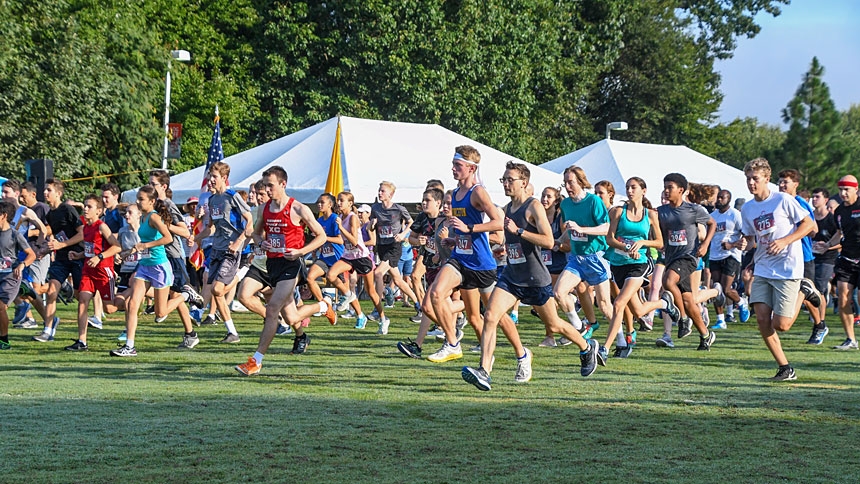 "It was the smoothest ever," said Kathy Klein, one of the organizers of the 25th annual Run for Life. With her husband, Bob Klein, Kathy has been helping to organize the annual event for "only" 12 years. Together with fellow race organizers Don Heller, Joe Lee, Eileen Mayhew and Mona Saul and event sponsors such as In His Name, Raleighwood Theater and Zaytoun Orthodontics, this year's run seemed well-organized and wonderfully familiar in many ways.
Many of the racers have been returning annually since the Run for Life started in 1994; in many cases their children are now counted among the hundreds of participants in the one-mile fun run or competitive 5K race, which is part of the Second Empire Grand Prix race series. A multitude of race day volunteers help ensure the runners are directed at key points through the wooded trails of the cross country course at WakeMed Soccer Park and have water at the beginning, end and halfway point of both races.
Bishop Luis Rafael Zarama blessed the racers at the start of the day and reminded participants that one of the best ways to preach life is through expressing and sharing the joy of our own lives. True to its mission, the benefits of the Run for Life will have an impact long after the day's race as proceeds from the event benefit BirthChoice. BirthChoice has been providing no cost, no obligation services to pregnant women in the Raleigh area since 1971. They make sure their clients are cared for in a respectful and loving environment and that they are empowered to make informed decisions.
Photos