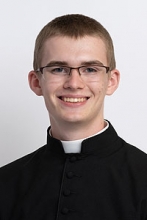 2nd College
Seminary: Saint Charles Borromeo Seminary, Wynnewood, Pennsylvania
Ordination: 2027
Birthdate: January 18
Home Parish: St. Catherine of Sienna, Wake Forest, NC
High School: Franklin Academy, Wake Forest, NC
Hobbies: Listening to various types of music, taking walks – especially with friends, and playing the contrabass
---
Who Influenced/Inspired you to Priesthood: I have always looked up to priests, especially the ones from my home parish, St. Catherine of Siena. God, through what I saw in priests while growing up, inspired me to study for the priesthood.
What would you say to a young man who thinks he may have a vocation: If you think that God is calling you to the priesthood in any way, shape, or form, pray to God about it! It is also helpful to talk to the local vocation's director. One of the most important things, in my opinion, is be open to God's will! It will not always be an easy feat to do His will. Lastly, remember that seminary is a place where you mature in the faith and further discern to which vocation God is calling you.
Favorite Scripture passage: "It is not that I have already taken hold of it or have already attained perfect maturity, but I continue my pursuit in hope that I may possess it, since I have indeed been taken possession of by Christ." Philippians 4:12
Favorite Saint: St. Francis of Assisi
Anything else of note you would like to share with the Diocese: If you have questions about anything, just ask! Also, please keep us in your prayers! Thanks for all the support everyone is giving to us seminarians!