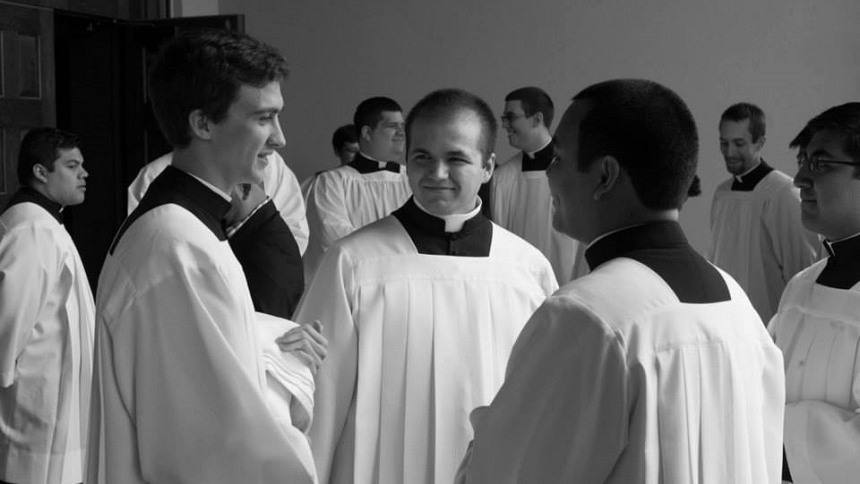 "How generous God is that he would call men to lay down their lives and their plans for my soul." - Fr. Philip Tighe, Director of Vocations and Seminarian Formation
The Seminarian Partnership Program (SPP) provides the opportunity for individuals, families or groups to support seminarians throughout their path to priesthood from the Diocese of Raleigh. Your support of the SPP will assist young men answering God's call to serve.
The Diocese of Raleigh has been blessed to welcome an increasing number of well qualified seminarians for future service of many generations to come in eastern North Carolina. While fortunate to have a bright future with priests, the increasing numbers combined with the increased costs has surpassed the ability of the Bishop's Annual Appeal to cover all costs of formation. Your gift to support seminarians will help to ensure future priests for the Diocese of Raleigh.
From our earliest days of life to our final moments on earth, receiving the grace of the Sacraments and the consolation from a priest is what many of us have experienced in our lives and in the lives of our loved ones. When we have fallen, due to our weak human nature, for "all have sinned and fall short of the glory of God" (Rom 3:23), it is the priest who reconciles us to God. It is only the priest, who acts in persona Christi, who can confect the Most Holy Eucharist and thus bring us the source and summit of Christian Faith (CCC1324). The future priests of our Diocese will welcome new children of God through the waters of Baptism, preside at weddings, teach us the truths of the Catholic faith, console us in our trials and give us hope in the eternal life to come. How ineffable is the gift of Priesthood!
For more information on vocations, please visit the Diocese of Raleigh Vocations website.
For more information on the Seminarian Partnership Program, please contact Liz McKee at 919-821-9745 or liz.mckee@raldioc.org.