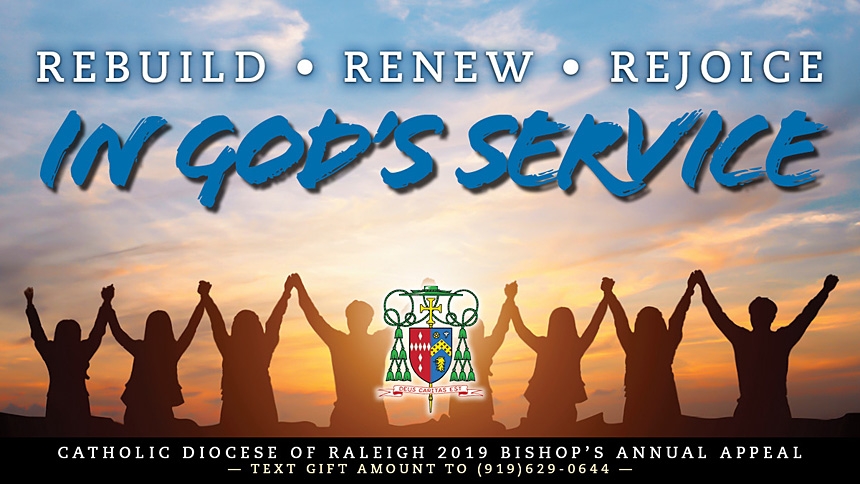 View the 2019 BAA brochure (PDF)
The Gospel mandate, and an unwavering emphasis of Pope Francis, is that our love for God must be reflected in our love for one another, especially the weak and vulnerable. In response to that call, our diocese remains fully committed to increasing our outreach to feed, clothe, educate and pray with those in most need of assistance.
The Bishop's Annual Appeal (BAA) is the combined effort of all parishes and parishioners in the Diocese of Raleigh to provide this outreach. With the help of God, our combined efforts can have a tremendous impact in responding to those who depend on our help.
The theme of the 2019 Bishop's Annual Appeal is Rebuild, Renew, Rejoice in God's Service. The Church and its people are facing challenges. More than ever, it's time to have hope and rebuild. Through Mass, prayer, retreats, service and formation, the faithful may deepen their relationship with God and grow spiritually. We invite you to explore the BAA site to learn more about the impact of your generosity to the campaign.
The BAA kicks off in January and concludes in December. Thank you for your support!
Pledges and Payments
To pay your BAA pledge by credit card, to set up direct bank account withdrawals, or to schedule recurring payments, please visit this page or call the Office of Stewardship and Advancement at 919-821-9772.
For stock donations, please complete this form.
BAA payment mailing address:

Bishop's Annual Appeal
Catholic Diocese of Raleigh
PO Box 639322 (BAA)
Cincinnati OH 45263-9322

Please make checks payable to Bishop's Annual Appeal.